MEET YOUR PERSONAL TRAINER




Jay Hofacker of Body Transformation by Jay
If you're searching for a personal trainer near Gallatin, TN that has a proven track-record for helping his clients get fast, noticeable results, then look no further.

Jason "Jay" Hofacker is the proud owner of Body Transformation by Jay and has over 26 years experience in strength training, muscle toning, flexibility training, body building, extreme weight loss, general weight loss and diet and nutrition. Jay obtained a masters degree in exercise physiology as well as being NASM certified in 2002.

The Body Transformation by Jay training studio is located in Gallatin, TN. We also offer virtual and remote training sessions for those who can't make it to our facility. From strength training and conditioning, to nutrition and weight loss, I'll design a personalized plan to help you reach your fitness goals. Whether you have never worked out before or are looking to fine-tune your training program, I can help you look and feel your best.
JAY CAN MAKE ALL THE DIFFERENCE
Yes, YOU Can Reach Your Fitness Goals.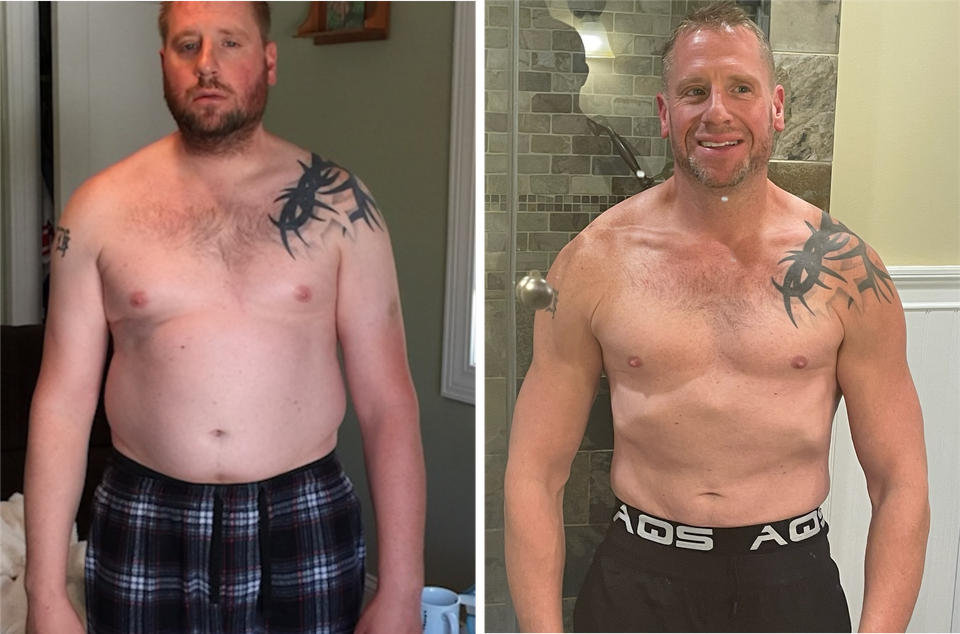 THINK YOU'RE TOO FAR GONE TO GET IN TERRIFIC SHAPE?


I'm living proof that consistency and willpower will get you there.
The picture on the left is me at almost 

260

 lbs. I was going through some tough times and just completely let myself go. Believe it or not I was still making my living as a personal trainer but was not practicing what I was preaching to my clients. I have felt like you, like I was too far gone to make a change and it was overwhelmingly daunting. One day, after a routine doctors physical I was told I had to go on blood pressure and cholesterol medication and that was it for me. I started tracking my food and applying all the exercise techniques I had learned over all the years. Yes, it was intimidating at first and I had to do it all on my own. I'm here to tell you that you don't have to stay in your current state. As you can see in the pictures, I have been there, so I understand where you might be coming from - and I will guide you all the way through your fitness journey. Please reach out and let's get started!

3 Reasons to Hire Jay as your Personal Trainer
 

01. Accountability
Jay will help you commit and stick to your fitness goals inside the gym and out. From showing up to sessions, to completing workouts, to eating healthy, to regular communication, Jay will keep you motivated and on track.

02. Nutrition
We firmly believe that every personal training initiative requires a commitment to eating a healthy balanced diet, where you are mindful of everything you consume. That's why we help you track all of your meals to help you eat smarter.

03. Results
Have you ever walked aimlessly in a gym or breezed through a workout without breaking a sweat? Jay can help you maximize your results and achieve your fitness goals faster than working out alone.

QUESTIONS & ANSWERS ABOUT MY PERSONAL TRAINING

Frequently Asked Questions

 
1. How often should I work with a personal trainer?
This really depends on your schedule and your fitness goals. For best results, we recommend at least three times per week.
2. What areas do you serve?
I work with clients in and around the Gallatin, TN area. That includes nearby towns and cities. I also work clients all over the country via my virtual training and coaching program.
3. Does virtual personal training really work?
Absolutely. Virtual personal training is a highly effective and convenient way to achieve your fitness goals and has proven to be just as successful as in-person sessions. Through live video sessions, personalized workout plans, and constant communication, virtual personal training offers the same level of accountability, guidance, and motivation as traditional training. Whether you're looking to lose weight, build strength, or improve overall fitness, our virtual training services are designed to deliver results while fitting seamlessly into your busy lifestyle. Experience the power of virtual personal training and unlock your full potential from the comfort of your own home.
4. Do I need to be in good shape before I start with a personal trainer?
No you do not have to be in good shape to start working with us. We take on a wide range of clients at many different fitness levels. No matter what your current condition is, we'll help you reach your fitness goals.
5. What should I eat before a workout?
We recommend that you eat something light but also packed with protein and carbs. We also recommend drinking plenty of water before, during and after your workout.
6. What type of payment do you accept?
We accept cash, check and zelle for your convenience.
7. Can I cancel my training session?
Yes. We just ask that you provide at least 24 hours notice if you need to cancel a training session.

Contact Jay Today to Request your FREE Fitness Assessment.